Michael Angel Acuña
January 4, 1949 ~ March 28, 1969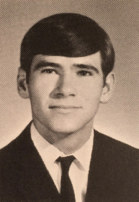 Former Tucson High School baseball great Michael Angel Acuña, 20, was killed Thursday when his sports car went out of control and overturned west of Tucson. His three passengers were injured. The car went off the right side of the road on a curve on W. Speedway Blvd. just east of the Anklam Rd. intersection near midnight.
Acuña, son of Augie L. Acuña, sports director for the County Parks and Recreation Department, was home from Stanford University during the Easter holiday. He and his companions, also Tucsonans attending Stanford, had been out on a picnic before the accident.
Mike was a straight A student at Tucson High. He played shortstop for THS and was captain of the team in 1966, when he received honorable mention all-city recognition. He was scheduled to go to England to study at Stanford's extension school in the fall and planned to return to Tucson to join the Cleveland Indians' baseball team for the spring semester in 1970.
The Tucson Mortuary, 202 S. Stone, handled funeral arrangements. Burial at Holy Hope Cemetery, 3555 N. Oracle Road, Tucson. Gravestone quote: "I see thy glory as a shooting star."
Extracted from Arizona Daily Star articles published March 29 and April 27, 1969.