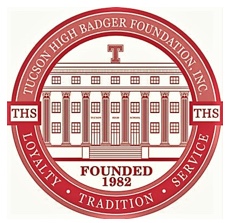 TUCSON HIGH BADGER FOUNDATION, INC
P.O. BOX 5424 ~ TUCSON, ARIZONA ~ 85703-5424 ~ www.tucsonhighbadgerfoundation.com
A Tax Exempt Organization as Described in Section 501(c)3 of the Internal Revenue Code
THEY NEED OUR HELP!
Class Gift
As members of the Class of 1967, we invite you to make a donation to the Tucson High Badger Foundation in honor of our
50 Year Class Reunion. We have received a very generous offer from an anonymous donor that will Double all donations
up to $5000.00.
Let's raise $10,000.00 together to honor the Tucson High School Class of 1967!!!
Mission Statement
The Badger Foundation strives to perpetuate the traditions and history of Tucson High School…now, Tucson High Magnet
School. We promote the educational and cultural needs of the students and alumni who are not financially able to do so
themselves. We encourage students to graduate & provide scholarships to help them pursue a college education. Last year
they wer able to provide 5 scholarships & with your help today & in the future, they can continue to do so on a much larger
scale.
Foundation Goals
Enrich Student Academic Endeavors
Create special programs/activities in a variety of subject areas
Recognize outstanding academic achievement through student scholarship
Support Athletic Endeavors
Encourage Excellence in Teaching
Promote education in Fine Arts and Technology
Support programs financially through contributions from alumni, parents and community resources
Foster Ongoing Relationships with Tucson High alumni
Establish and increase Endowment Funds
Promote Community Involvement
Everyone deserves a chance & together we can make a difference!

Thank you in advance for your generosity & support,

The Tucson High Class of 1967
Please answer a couple of questions to get started.
To Specify How You Would Like the Recipient's Name of Your Donation to Appear.
Please Choose from the Examples Below:

"In Memory of Coach Mallamo"
or
"In Honor of Andy Tolson"
or
"Anonymous", "Sports", "English", "Fine Arts", "Technology", etc
(If Your Donation is not Directed Toward Any Person in Particular)

Payment information at PayPal will have to include names exactly as they appear on the credit card, debit card, or PayPal account