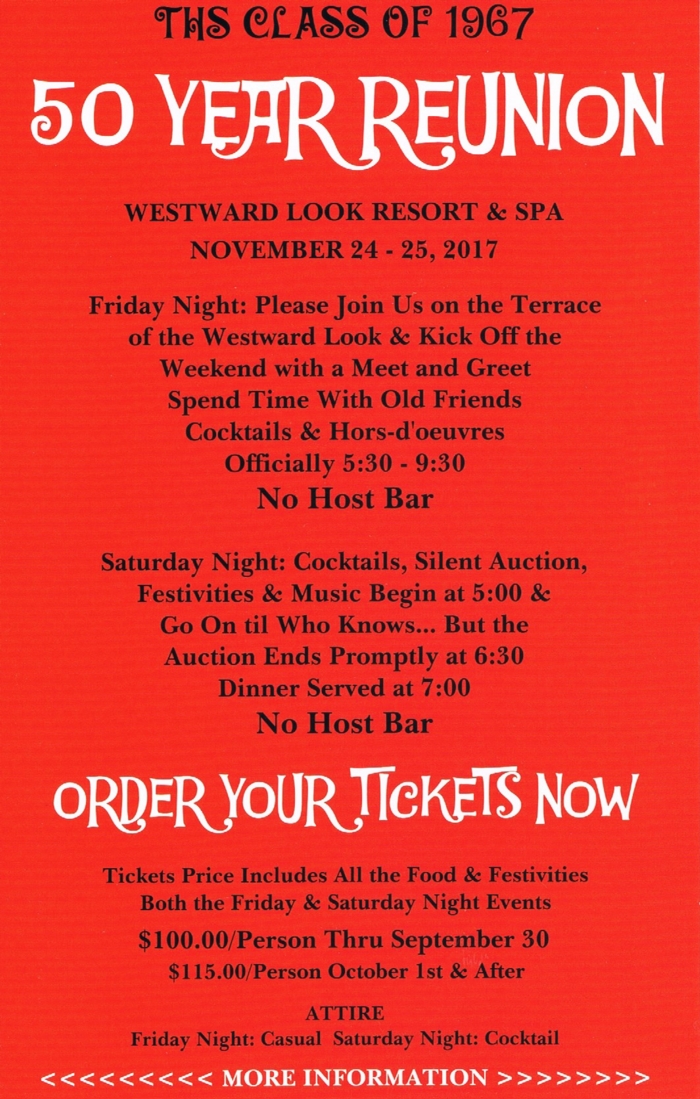 Greetings, Badgers of 1967! This is the main website for reunion information, updates, and registration. Please help us by signing in, creating a profile, and updating your contact info. Find your name under "Classmate Profiles" and click. If you do not find your name, look at the bottom of that page for a different way to join.
Information about the 50-year reunion is above. You can purchase reunion tickets by clicking this "Purchase Tickets" link. Please don't forget to fill out the menu options prior to pushing the buy button. Alternative payment methods are also described.
You can reserve your hotel rooms by clicking the link "Book Room" to the left side of this page or by calling the hotel directly (520-297-1151) using Group Code #11246815. Rooms are $119.00/night plus tax. View the property, but DON'T book through: http://www.westwardlook.com
Spread the word! Encourage other alumni to sign in. Contact us if you know the whereabouts of any of our "Missing Classmates." (A classmate is considered missing if there is no email address nor mailing address in the system for her or him.) Thank you.
Hope to see you soon!
Representing your committee: Adrienne, Sylvia, Melinda, & Ron
Adrienne Ash, Reunion Chairperson Email: ths1967classreunion@gmail.com